Merino Wool Socks Made For Adventures
The secret of great adventures is hidden in details. Any experienced outdoor enthusiast knows that even the most hi-tech equipment is not enough if you neglect to choose proper socks. Those are equally important as proper shoes since your feet will do most of the work whether you go hiking or do any other sport. That's why they deserve special treatment – and merino wool socks will do just that.
 Why is merino wool the best choice (even in the summer)?
 In Black Hill Outdoor we are pretty convinced that merino wool is the perfect functional material with extraordinary qualities. Plus, it is made by nature itself. We have already praised its wonderful features many times. Its biggest advantage is definitely its amazing thermoregulation ability – sheep wool retains optimal body temperature not only in winter, but also in summer. It warms you up in cold and vice versa, it prevents you from overheating when it is hot. Merino wool therefore provides an ideal microclimate to your feet and allows the skin to breathe, so you don't need to worry about sweaty feeling. Excessive moisture is quickly removed through evaporation and even if your feet start sweating more, merino wool is able to absorb up to 30% of its volume without making you feel uncomfortable. You will appreciate this superpower when hiking in wetlands or deep snow. Merino wool keeps your feet comfy and dry.
Moreover, sheep wool is naturally antibacterial. In practice it means you don't have to worry about taking your shoes off in a tent or a cabin, nobody will be harmed :) Woolen fibres prevent microbes from reproduction and thus they eliminate bad smell. Just air your socks well after wearing them and you are good to go again - that is super handy especially on long treks or when travelling (plus it saves essential space in your backpack).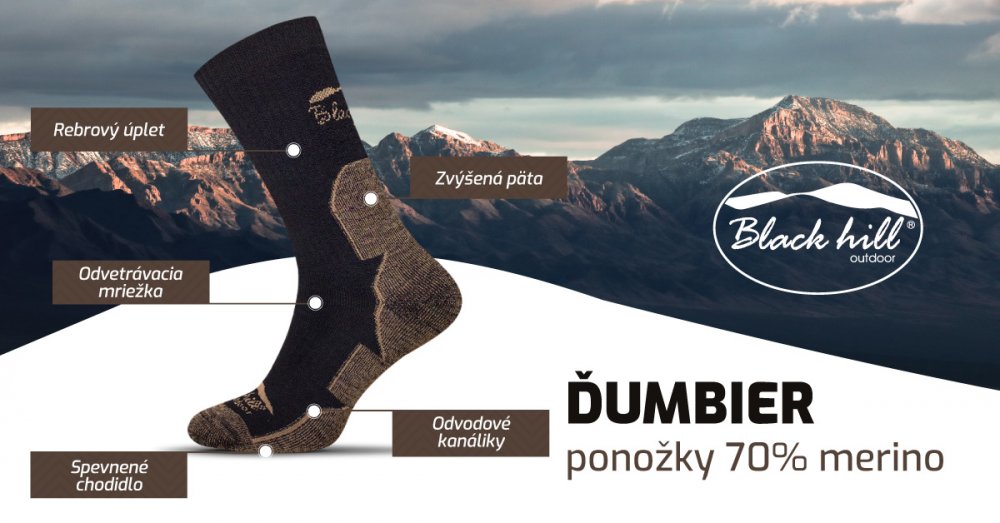 Merino socks are extraordinarily functional and work perfectly even in extreme conditions. They retain an ideal microclimate of your feet and keep them comfortable during all kinds of activities - in winter as well as in summer.
 Why aren't the socks 100% merino wool?
 All our items are made of merino wool and socks are no exception. Well, maybe a small one – due to the high mechanical stress in hiking boots, merino wool in socks requires extra enhancement with polyamid and elastane. That's why we chose a special fabric certified by bluesign®. This makes our socks not only very soft and pleasant to wear, but also extremely durable and resistant, whilst staying sustainable. Merino wool share in our socks ranges from 65 to 70% depending on the model, which guarantees retaining the superpowers of other woolen items.
 You may choose thicker merino wool socks Dumbier (70% merino), which are amazingly soft, snug and comfortable and excel especially in colder months, or lighter merino wool socks Chopok (65% merino), which are  perfect for a year-round use, including summer. Thanks to the premium material and anatomical shape, the socks are perfect for any outdoor activities - whether you prefer hiking, skiing, camping or fishing. They are reliable in regular as well as tough conditions and will provide your feet with maximum comfort.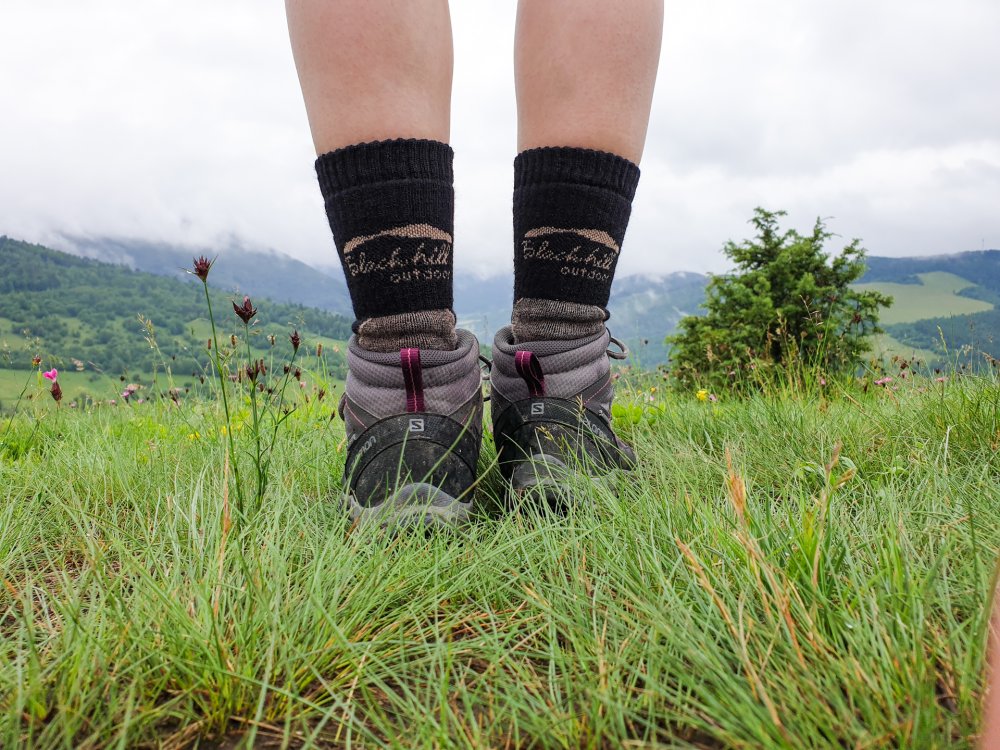 Choosing a proper boot is important, equally to choosing a proper sock. Your feet will thank you by taking you on the greatest adventures.
If you have already hiked some miles, you certainly know that quality equipment is a cornerstone of great experiences. Merino wool will take an excellent care of your feet and thus you can enjoy your activities to the fullest without being uncomfortable. Plus, Black Hill Outdoor socks are made of sustainable certified material in a small local workshop. For treating them well, your feet will thank you with the best adventures!
 See in our eshop: